Alizeh Ahmad Fulbright English Teaching Assistantship - Malaysia
Award
Fulbright English Teaching Assistantship
Award Supported
One-year English teaching placement in Malaysia
Undergraduate major(s)
Religion; International Studies (high honors)
Currently
Completing Fulbright English Teaching Assistantship in Malaysia
During her time at Emory, Alizeh was involved with Model UN, Amnesty International, and the Global Growers Network. She also worked with the Global Village Project, and was active with Emory's Gamelan Ensemble.
Q: What experiences at Emory prepared you for the Fulbright?
A: I volunteered as a weekly English tutor at the Global Village Project in Decatur, a special purpose school with the unique mission of equipping recently arrived refugee girls in the Decatur/ Atlanta community with the English language literacy, content knowledge, and life skills necessary for successful study and entrance into a high school or equivalency program in the US. Being a volunteer in this program not only gave me the valuable opportunity to gain cross-cultural experience teaching secondary school-aged students English as a second language, but also exposed me to creative pedagogies that value confidence building and experiential learning in the classroom, which I brought with me to Malaysia.
Joining Emory's Gamelan Ensemble also helped prepare and excite me for being in Malaysia. At the suggestion of a professor of a Sufism class I took for my Religion major, I joined an eclectic group of musicians at Emory to play the Gamelan, a percussive ensembles of musical instruments that is popularly played in Malaysia for religious rituals and cultural celebrations. As the ensemble included budding anthropologists of South East Asia as well as scholars and students of Islam, I not only learned about how to play and participate in Gamelan music, but also a great deal about the culture and Islamic context of Malaysia.
Q: What memorable or interesting things happened during your Fulbright experience?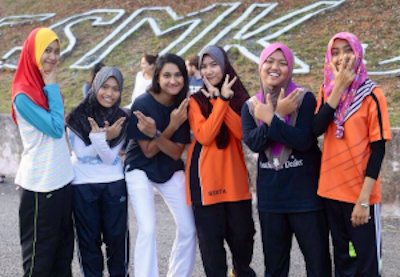 A: An interesting and somewhat challenging part of my experience has been the multi-racial and cultural context I live in. At school, I work with a diverse population of students who identify under the racial markers of Malay, Chinese, Tamil, or Orang Asli (indigenous). While all are Malaysian citizens, these identities correspond to certain political privileges, and are also listed on their government ID cards. Students tend to self-segregate in my classes, and use "mother tongues" such as Hokkien Chinese, Cantonese, Bahasa Melayu, Semai, and Tamil as their second language during English class.
Though I have learned bits and pieces of many more languages than I initially thought I would, I did not anticipate the level of tension and sensitivity I have encountered in my community towards issues related to race. A really gratifying aspect of my work here has been finding ways to create spaces (in kopitiams or coffee shops, outdoor trips, and through music) for my students to talk about race and identity in Malaysian society, which they are not readily able to do at the school. It is mainly because of my students, and not books and articles that I am really learning about the racial landscape in this country.
Q: How did the Fulbright impact your academic/ career path?
A: Though I was looking for a break from being a student when I set off for the Fulbright, I think teaching
here has helped me realize that I truly enjoy the experience of working towards cultivating and producing knowledge more than anything else. I have also had so many experiences in Malaysia that have both fascinated me and clarified my interest in studying Islam and politics, particularly in Asia. I hope to spend more time in Southeast or South Asia after the grant ends so that I can delve deeper into some of the questions my experiences have raised, and then go on to graduate school.
Q: What advice would you give current Fulbright applicants?
A: Think about the possibility of a whole year of your life spent immersed in a small, rural town in a new country as a teacher. Envision yourself in the country you are applying to, and try your best not only to broadly and deeply understand the politics, culture, and religious context of that country, but also that you will be spending the majority of your time there working as a teacher. It is truly a rich and rewarding opportunity to teach and learn at the same time. Think through your desire to teach, why you would like to teach in this country, and what you expect to take advantage of while you are there.